African American Dance Company Presents
Reaching Back While Moving Forward: A Switchyard Park Performance
Choreographed and Directed by Stafford C. Berry Jr.
We reclaimed our dancing ground, moving past the studio space and communing with the Earth.
Parks, grassy areas, and even concrete spaces became the African American Dance Company's new creative environment.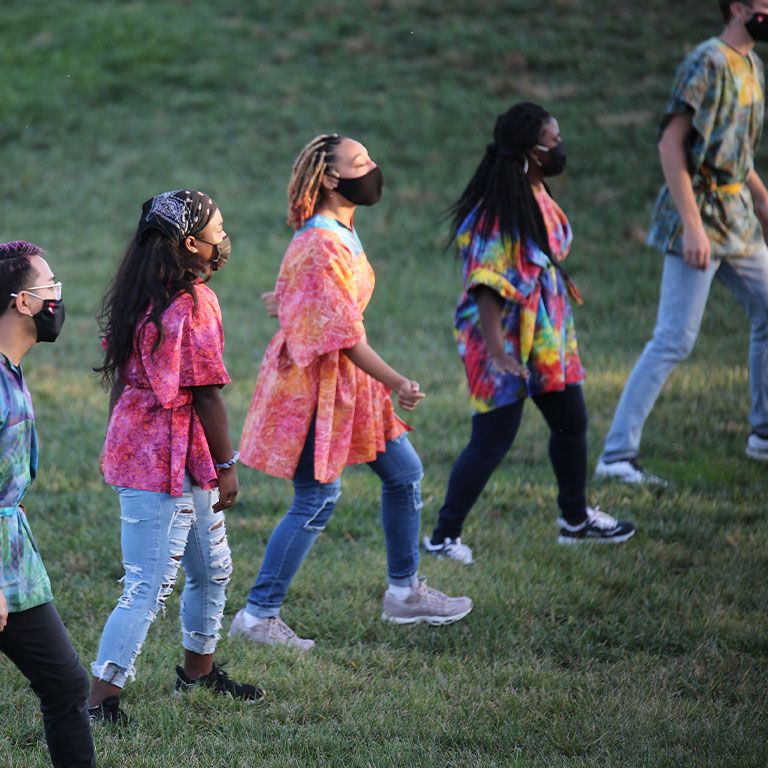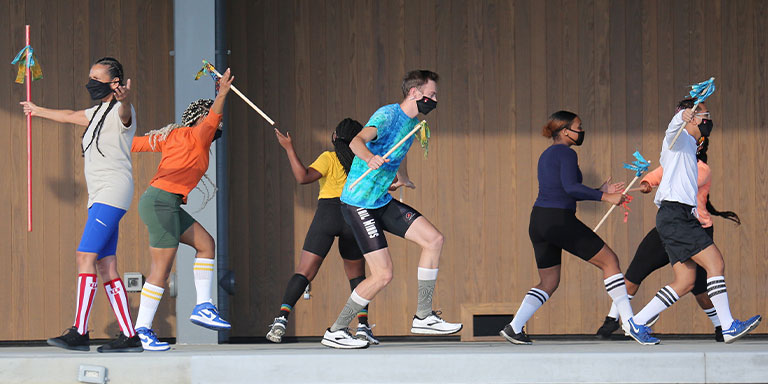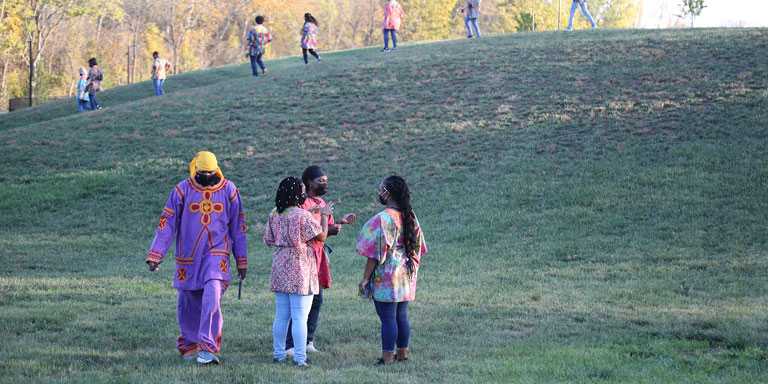 In exploring this new environment, the work became about expansion and reconnecting with the Earth through African-based traditional dances, reimagined for contemporary times:
Fanga, a dance of welcome from Liberia
IsicaXulo, a dance for freedom from South Africa
Mhandé, a dance for rain from Zimbabwe
Connecting with an older way of dancing—that some people may have forgotten—provided us some freedoms and liberties we did not have access to when we remained indoors.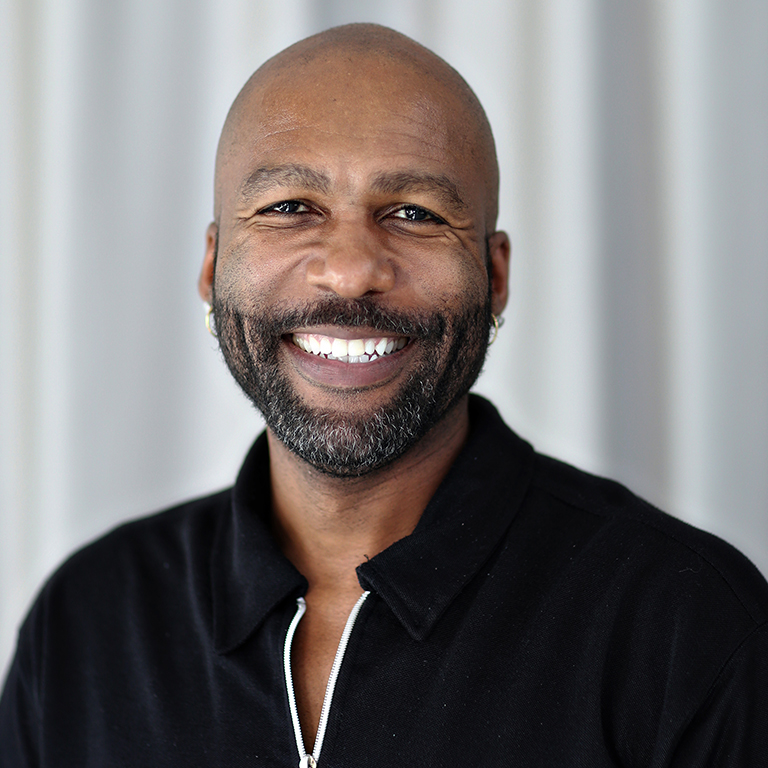 Students were challenged to reconnect, reconvene, and reground themselves with our environment—and it's interesting that COVID-19 is a part of that. The virus became a part of our cultural and natural environment, traveling through space and the air around us.

Stafford C. Berry Jr., African American Dance Company Director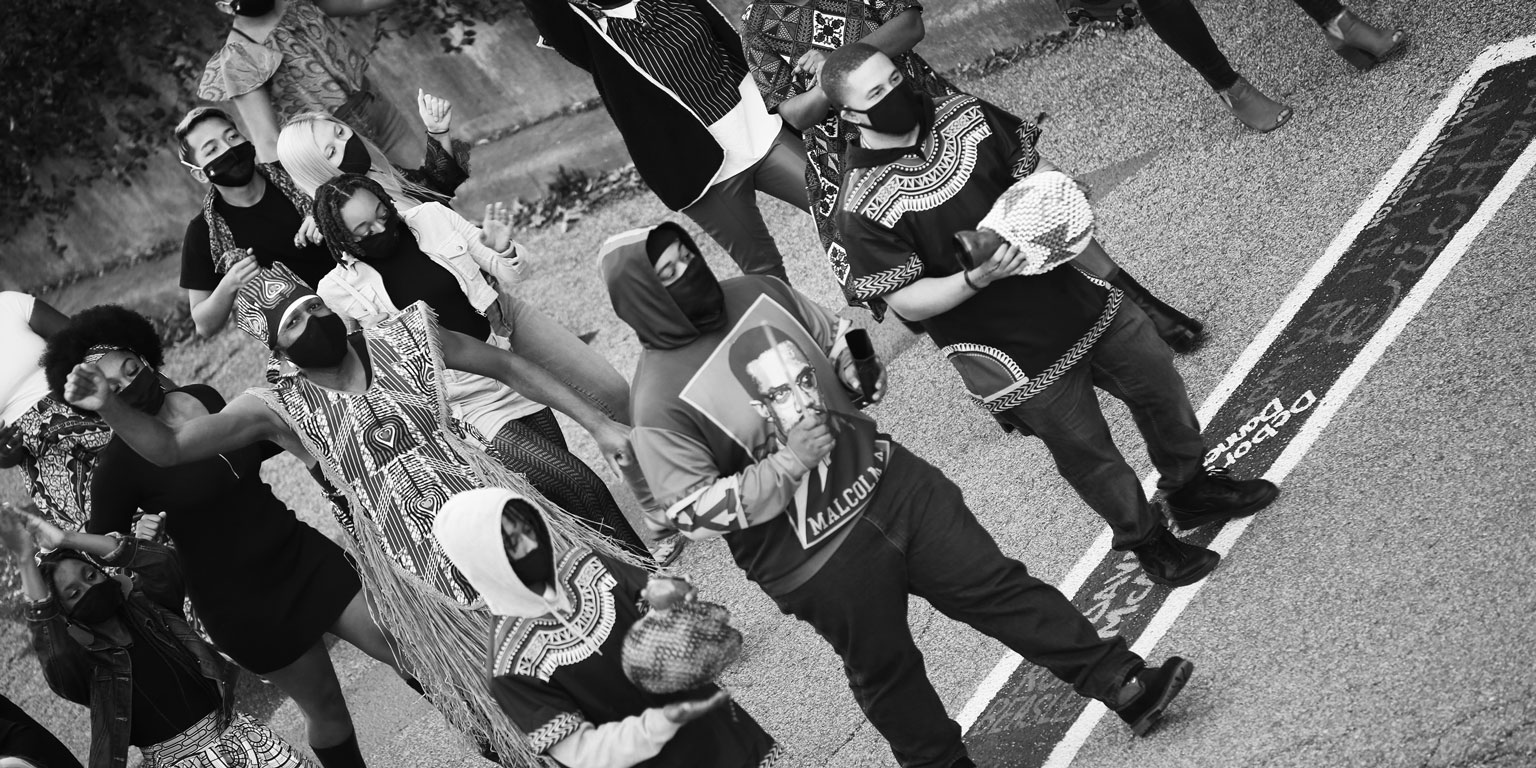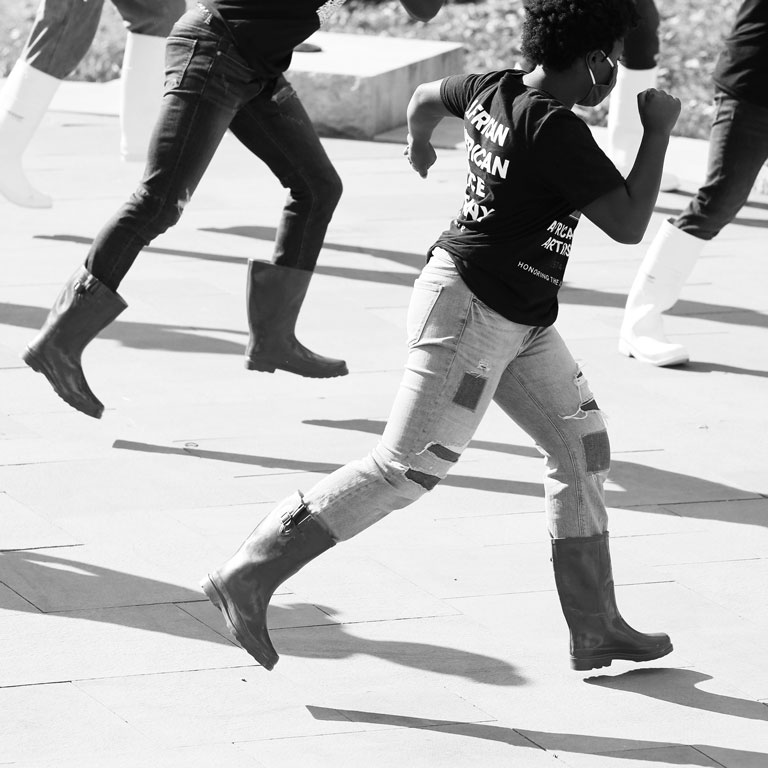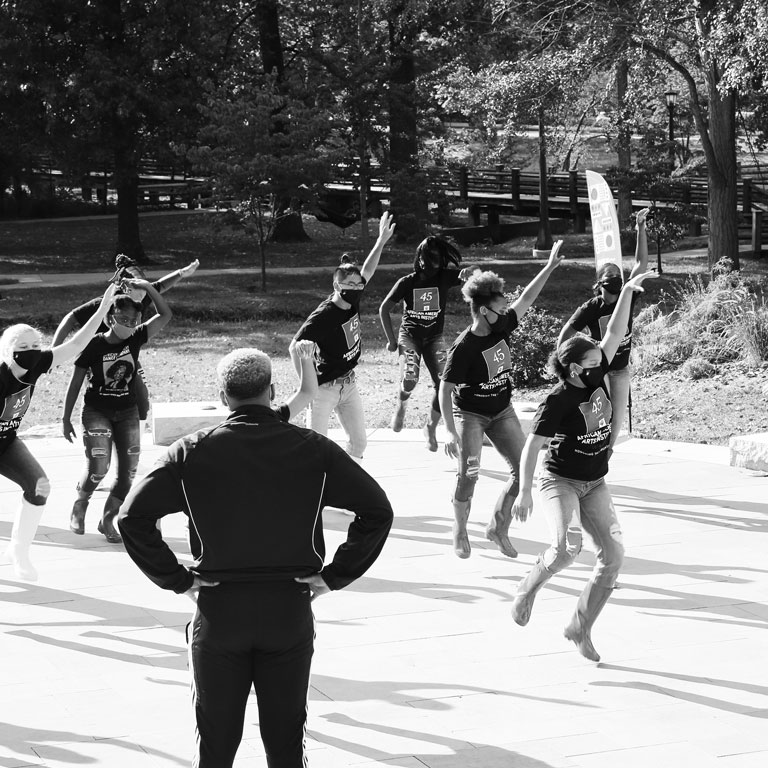 Explore African Dance Traditions
Click to learn more about the African dance traditions the African American Dance Company embodies in Reaching Back While Moving Forward: A Switchyard Park Performance.
Fanga is a traditional West African dance of Welcome from the Kpelle people of the country of Liberia. Of the various categories of traditional African Dances, it fits within the social and ritual categories. Fanga was embraced by the African American community in the United States and, thus, it has a continuing history here.
Mama Pearl "Omowale" Primus was a renowned dancer, teacher, choreographer, anthropologist, and a contributing pioneer of early modern dance and African dance in the United States. In 1948 she received a Rosenwald Foundation scholarship to travel to Africa to study dance. She learned Fanga during her time in Liberia.
When she returned to the states, she began teaching and staging Fanga. In one instance of cross-cultural interaction circa 1950's, Mama Pearl taught Fanga, and the Yoruba priests, from Nigeria in West Africa who played for the class, began to sing in their language, "Fanga, Alafiya, Asé, Asé." While the dance is from Liberia, the word of the chant we now sing were inspired by the Yoruba's of Nigeria.
Commonly known as the South African Gumboot Dance—or simply Gumboot—in many contemporary and popular dance communities globally, IsiXathulo is a traditional based dance & music style originating with the Zulus from South Africa. The production of music within this dance comes from complex unfolding patterns of rhythmic stomps, slaps, claps, chants, and other body manipulations—all generated from the human dancing bodies.
The history of IsicaXulo traverses time, function, place, and bodies. At first a South Africa regional Zulu dance performed to acoustic instruments, IsicaXulo made its way to the country's diamond mines during its colonial initiation. Laborers in the mine shafts would employ the dance to maintain their morale thru otherwise physically and spiritually oppressive work conditions. When the dance made its way to the trade loading docks of the Cape Town coast, it incorporated the rubber Wellington boots the dock workers wore for protection, hence the name "gumboot". Like Tsoi-Tsoi, the fist-pumping march of solidarity, IsicaXulo served as embodied resistance during the abolishment of Apartheid, a governmental system of institutionalized racism and oppression in South African from 1948 to the early 1990's.
Many traditional agrarian communities in Africa employ ritual practices to ensure a plentiful harvest year after year. These practices are customarily serious, critical business; for their success helps sustain a community's livelihood.
Mhandé is a traditional Southern African dance for rain from the Karenga People, a subsect of the Shona and Ndebele people of Zimbabwe. Of the various categories of traditional African Dances, it fits within the ritual category. Traditionally, dancers wear module seed pods on their legs to mimic the sound of rain and, thus, amplify the collective voice of the community and their request. Mhande is a complex ritual that, when executed properly, creates a symphony of sound from drum rhythms, foot stomps, leg rattles, choral chants, and furious dancing. These musical dynamics of the dance are built around a 6/4 time signature.
Support the African American Dance Company 47-year legacy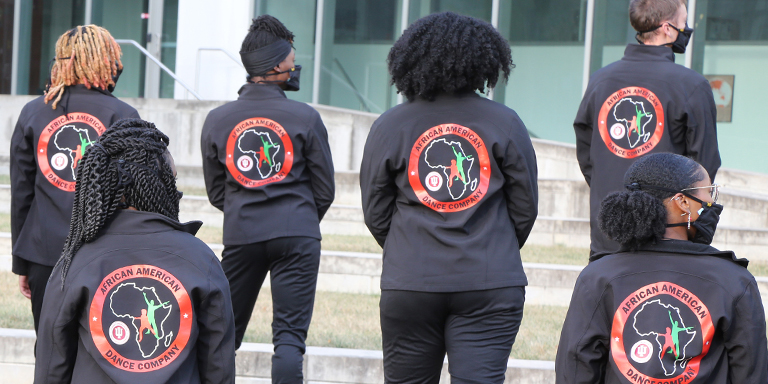 Since 1974, the African American Dance Company (AADC) has provided transformative artistic and academic experiences for hundreds of Indiana University students and alumni.
As we look forward to opportunities for students to perform, research, and travel post-pandemic, the AADC Student Organization is raising funds by offering limited-edition AADC sweatsuits for purchase. All donations will help fund the self-governed Student Organization production and activity items such as costumes, transportation, and other performance-related items. If you are interested in purchasing an AADC sweatsuit or jacket, complete this form to receive further information.
Gifts of any amount are vital to the sustainability and growth of our program. Thank you for valuing the arts and diversity in education.
Give to the African American Dance Company